Built upon a foundation of integrity and teamwork, anembo will deliver innovative solutions and excellence in landscape and environmental design.
Anembo is an award-winning multi-project landscape architectural consultancy providing services to projects in Queensland, specialising in Landscape Architecture, Environmental Sciences, Arboricultural Consulting, and Landscape Project Management.

With over 30 years of experience, our Sunshine Coast based team is committed to finding creative yet practical solutions to unique elements of every project, from simple to complex. Our expertise and industry network ensure rapid response solutions and successful navigation of development applications.

Anembo, meaning 'a beautiful quiet place', represents someone's special place of peace, reflection and contemplation. At Anembo we dedicate our work to creating 'beautiful peaceful places' for our clients.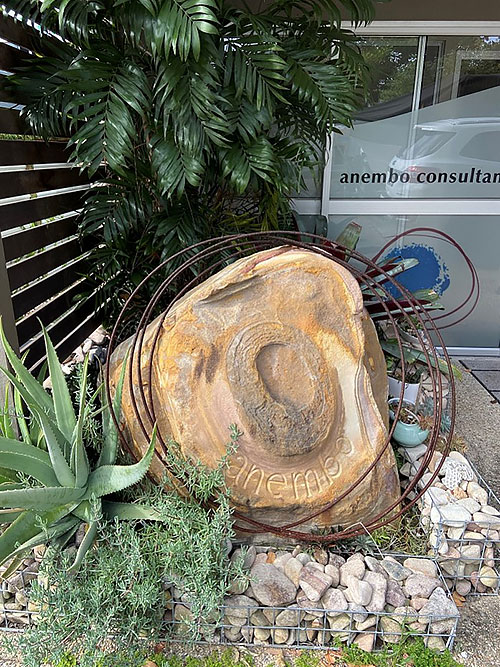 OUR APPROACH
Anembo is committed to excellence in consulting, maintaining standards beyond industry norms. Our quality management systems are designed to deliver the highest quality service, while our flexibility and fee options ensure that our services are tailored to project needs. Over the years, we have built a strong network of industry professionals, colleagues, and community members, with whom we collaborate to generate innovative solutions to challenging problems. We are dedicated to the holistic approach of taking a vision and turning it into reality, while simultaneously providing feedback to improve our professionals and ourselves. By investing in our future consultants and staying up-to-date with the development industry, Anembo will stay ahead of the curve and remain a leader in quality consulting.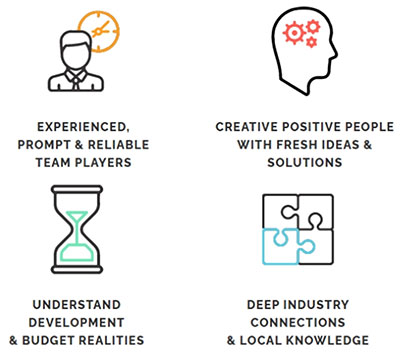 OUR TEAM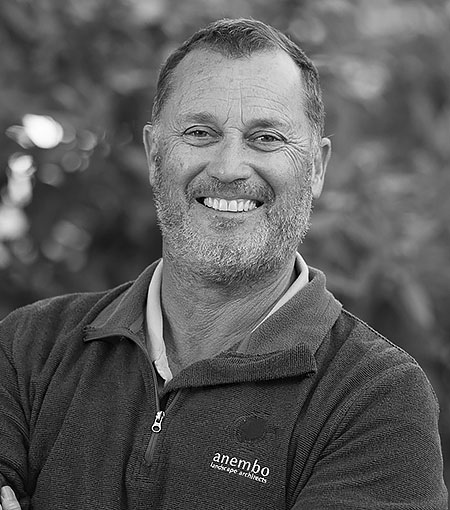 Tim Hindley
PRINCIPAL LANDSCAPE ARCHITECT & MANAGING DIRECTOR
Fellow of the UDIA
Registered Landscape Architect # 713
AREAS OF EXPERTISE
Landscape Planning & Design
Feasibility Studies
Project Management and Contract Administration
Government Liaison
Site Analysis & Concept Design
Construction Documentation / Detail Design
Vegetation & Bushfire Management Plans
Tim is a Registered Landscape Architect, Environmental Scientist and Consulting Arborist with over 30 years' experience in the delivery of landscapes to private and public land developments across South Eastern, Central and Outback Queensland.
As Director and Principal Landscape Architect for over 2 decades, Tim's commitment to aesthetic functionality and environmental sustainability through design, has resulted in an award winning relationship between architecture and landscape. Tim has successfully co-ordinated a range of major landscape projects with a focus on landscape planning, authority liaison and construction phase problem solving. Tim is an experienced practitioner in multi-disciplinary design teams, has an environmentally responsive design approach and keen attention to construction detail derived from his formative years in landscape construction at Eureka Landscapes.
Underlining Tim's commitment to integrity and professionalism is his role as the inaugural chair of the Sunshine Coast Chapter of Australian Institute of Landscape Architects and has also served as State Vice President and Treasurer. Tim has vast experience in land development and was made a Fellow of the UDIA in 2011 for contribution to the Development Industry at state and regional levels. Tim contributed leadership for the Enviro Development expert taskforce on the Sunshine Coast Regional Council's 'Housing Affordability Taskforce', Clean Tech Industries Group and Sunshine Coast University Development Industry Liaison Team.
His design philosophy is based around determining best design fit with the sites physical and natural values whilst meeting project targets for completion. His priorities include the provision of accurate documentation, the reuse of site resources and the selection of materials and elements that respond to the clients' market sector requirements. Tim has a passion for contributing to interdisciplinary project teams tasked with determining land development strategies and programs. These skills have been applied to a range of urban communities, open space management, community facilities and urban infrastructure projects.
Tim believes that Landscape Architecture provides a framework to pursue the fusion of aesthetics and science that continually stimulates the intellect and, provides the opportunity for profound positive wellbeing. These opposing yet complementary design approaches allowed Tim to develop his brand of drawing the underlying beauty from natural systems and urban places into a celebration of their intrinsic aesthetic. Thus 'Creating Places' as a company motto recognises this intent of discovering in each landscape design the balanced fusion of beauty, form and life.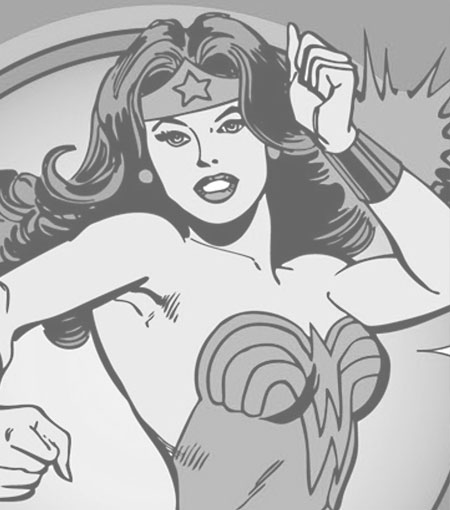 Michelle Silva
ASSOCIATE DIRECTOR
Landscape Designer | Practice Manager

Michelle has over 20 years' experience in the development industry and provides a high level of competence in various drafting disciplines including landscape design, cadastral, urban design and topographic mapping with 10 years at Anembo.
Michelle has been in private practice that has stretched from the Torres Straits, Cairns and Townsville to Southeast Queensland and worked on many recognised, award winning and finalist projects including Skyrail Rainforest Cableway and Surfair, Marcoola.
Michelle has designed and drafted for many multiple disciplinary projects with a broad range of tasks servicing clients including master planned communities, government, hotels, resorts, residential subdivision developments, golf course developments, tourism and commercial projects, open space preserves and recreational developments.
Michelle is also the company's Quality Manager, complying with the ISO9001 Quality Management System.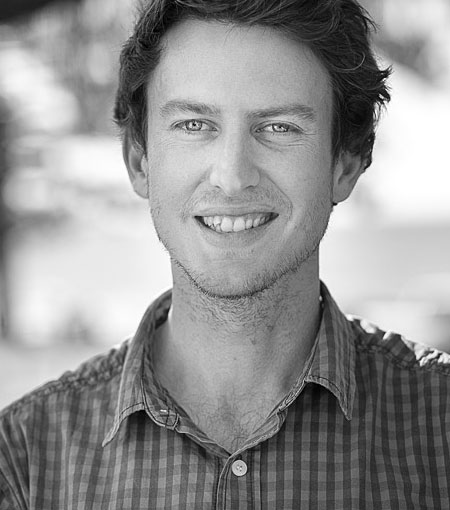 Clint Keizer
PROJECT LEAD
Architect | Landscape Designer

As an experienced Project Lead, Clint has been involved in a range of major projects in Asia and across Australia.
Clint takes a creative and systematic approach to design, utilising a solid foundation of science and problem solving to provide functional and aesthetically pleasing designs in line with client expectations and budgets.
Growing up on the family Macadamia farm has imbued Clint with practical knowledge and a hands on approach.
Clint's love of nature and the profession culminate in designs which excite, connect and strengthen connections between people and place.
OUR VALUES &CULTURE
At Anembo, our mission is to design inspired, innovative, and high-quality spaces and places. We pursue this mission by collaborating with clients and combining the best elements of science, art, and heart. Our holistic, inquisitive approach is supported by a Quality Management System that encourages continuous improvement and ethical practice. Our employment policy focuses on lifelong learners, and our team is passionate, experienced, and highly skilled. We rely on research, data, and creativity to bring the right mix of knowledge, artisanship, and leadership to each project. Together, we create unique and memorable spaces and places in the public and private landscapes of Australia.

Reconciliation Australia has endorsed Anembo Consultants inaugural Reflect - Reconciliation Action Plan (RAP), joining a network of more than 2,200 organisations that have made a formal commitment to reconciliation through the RAP program. We see this Reflect RAP as the first step in a life-long journey of reconciliation. The focus of our first RAP is to become educated and establish meaningful two-way relationships with Aboriginal and Torres Strait Islander peoples and communities. We can also identify what unique ways Anembo Consultants can contribute to reconciliation in Australia. It is about building our understanding and making reconciliation a core aspect of how we go about our business.
We are immensely proud of the fact that Anembo's Quality Management System (QMS) has been compliant with AS/NZS ISO 9001:2015 since 2009. Our QMS is a dynamic business tool that enables us to hone our consulting skills to provide reliable, positive, and professional services to our clients. The commitment of our team to the QMS is essential for meeting the highest standards of customer satisfaction.